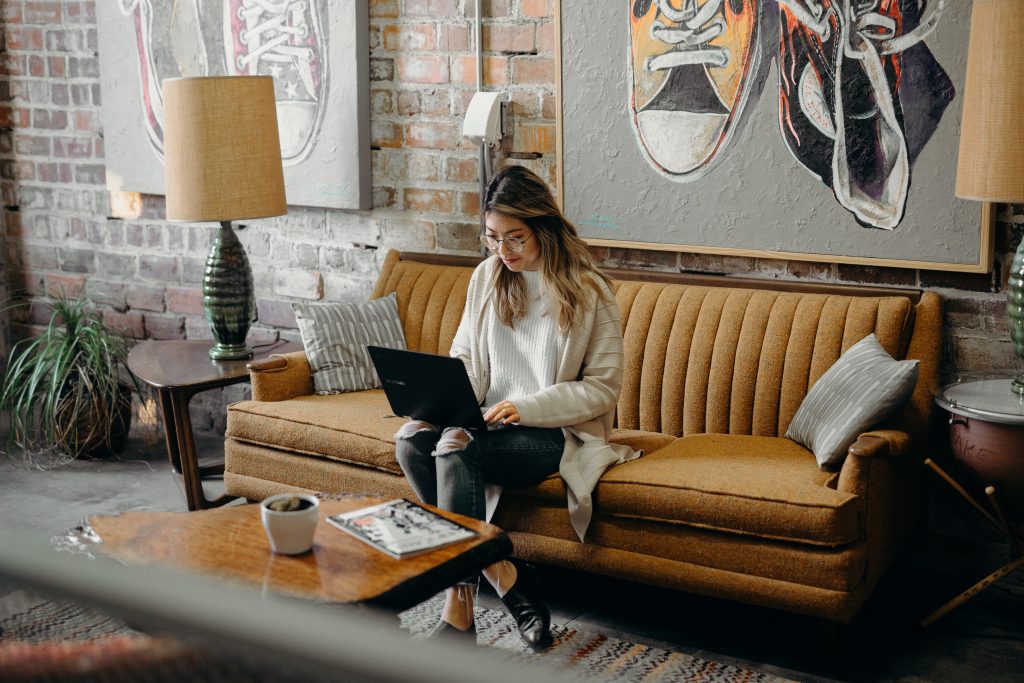 Individual Teletherapy
Cassandra and Dylan offer individual therapy to residents of New York State by secure telehealth platform, and Cassandra also offers in-person sessions at our office in Buffalo.
Each session with Cassandra is 50-55 minutes long and costs $200, which is due at time of service.
Each session with Dylan is 50-55 minutes long and costs $75, which is due at time of service.
Relationship Teletherapy
Cassandra and Dylan also offer relationship therapy to residents of NY.
Sessions are the same length and cost as individual sessions: 50-55 minutes at $200/session for Cassandra or $75/session for Dylan, which is due at time of service.
In-Person Therapy
Queer City Therapy offers in-person sessions with Cassandra at our office suite located at 257 Lafayette Ave, Buffalo, NY 14213. We share a waiting room with our partner practice, Whole Stories Therapy.
Accessibility
Our office is located on the ground floor with ramp access directly from the parking lot. There is limited parking space in the lot and usually plenty of on-street parking in the neighborhood. It is a roughly 3-10 minute walk to the office from nearby bus stops.
There is a gender neutral and accessible single occupancy bathroom available off of our kitchen space, which is shared with the small architect firm in the building.
If you have any concerns about accessibility, please do not hesitate to reach out. Telehealth is also always an option if coming into the office feels inconvenient or uncomfortable.
COVID-19 Policy
Anyone interested in in-person therapy must be fully vaccinated against COVID-19.
Please do not attend your session in person if you are feeling unwell or have a suspected exposure. We can have our session by telehealth or phone, or we can reschedule.
Please also let us know if you prefer that we wear masks during session.
Complimentary Consultations
We offer 15 minute consultation calls by phone or by video call at no cost. This is an opportunity for us to learn more about one another and assess if we might be a good fit for therapy. Please email admin@queercitytherapy.com to schedule a consultation.
Payment
Queer City Therapy accepts all major credit cards. Your card information is saved securely into our electronic health system and billed automatically at time of service.
Queer City Therapy does not accept insurance. Cassandra offers superbills that you can submit with your insurance for potential out-of-network reimbursement. Out-of-network reimbursement varies widely from insurance to insurance, and we encourage you to speak to your insurance company about their policies and timelines before committing to sessions. You are responsible for the full fee regardless of reimbursement.
Sessions with Dylan are not eligible for superbills.
Good Faith Estimate
You have the right to receive a "Good Faith Estimate" explaining how much your medical care will cost.
Under the No Surprises Act, health care providers need to give patients who don't have insurance or who are not using insurance an estimate of the bill for medical items and services.
You have the right to receive a Good Faith Estimate for the total expected cost of any non-emergency items or services. This includes related costs like medical tests, prescription drugs, equipment, and hospital fees.
Make sure your health care provider gives you a Good Faith Estimate in writing at least one business day before your medical service or item. You can also ask your health care provider, and any other provider you choose or a Good Faith Estimate before you schedule an item or service.
If you receive a bill that is at least $400 more than your Good Faith Estimate, you can dispute the bill.
Make sure to save a copy or picture of your Good Faith Estimate.
For questions or more information about your right to a Good Faith Estimate, visit www.cms.gov/nosurprises